After all, I am a San Diego Photographer
So I thought it only fitting, for my first post on my new and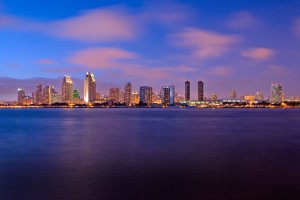 improved website, to revisit a shot I have done several times through the years.
I took a photo similar to this new one about 8 years ago, when digital cameras had not quite caught up to film. There definitely are still some differences with the two formats. There is a lot of noise in digital formats. I guess an old school shooter would call it grain.
Anyway… New website, new photo of the San Diego skyline. Of course the web being what it is, a ton of detail is
lost, so I also included a detail shot.
I think it turned out pretty nicely. Maybe I will put it on canvas in a large format and sell it.
What do you think?
Enjoy!